Matt Tetrault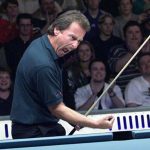 The racking knowledge is probably the most popular but Guaranteed Improvement and the Aiming Workout get me my best results. I think any player who commits to these drills will be happy with the results they see. Anybody can make up a drill but Joe has come up with drills that are directly geared towards developing a consistent high level of play. His score keeping concept makes it easy to track results and see what areas of your game need more work. No blowing smoke or sugar coating with Joe! Just productive drills that will help anyone improve and have fun in the process!
Matt Tetrault
Champion Straight Pool Player
Steve Tavenier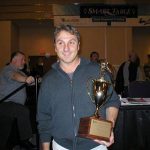 I was lucky enough to have Joe for a friend and tournament partner for many years. My Turning Stone Classic win was; Corner ball, position on the 1 Ball, Run Out and loved every minute it and all the other tournaments we got to go to together.
Steve Tavenier
Winner of the Turning Stone Classic
Oscar Dominguez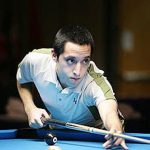 I learned more about reading the rack with Joe Tucker in a parking lot with 10 coins than I did in all my years competing on the Pro Tour. I don't cheat, I don't like cheating and I now know I won't be cheated 😉
Oscar Dominguez
Mosconi Cup & Professional Player